Landscape Lighting | Safety and Security in Your Landscape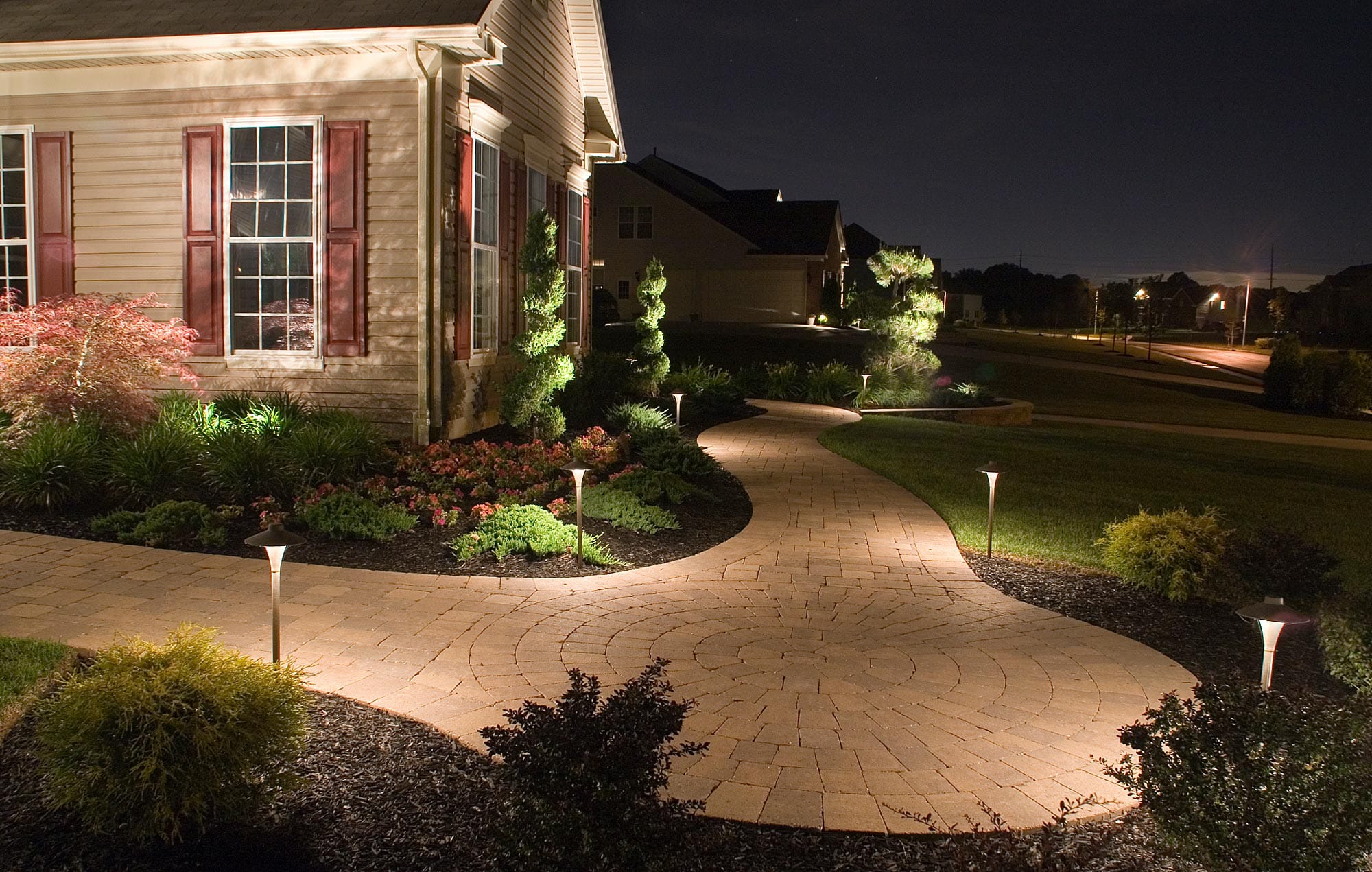 Landscape lighting can add curb appeal and dimension to a home at night but can also be an important part of an effective home security system. Outdoor security lighting discourages intruders from targeting your home by increasing the risk of being caught. The best lighting design allows physical detection, minimizes hiding spots, and increases your sense of safety.
Landscape lighting for security should:
Be aesthetically pleasing.
Help the residents safely navigate the landscape and the perimeter of the home, and allow them to identify obstructions and potential hazards such as a change in elevation.  But also make tasks such as finding keys, retrieving the mail, or walking the dog easier and safer.
Provide security by discouraging trespassers. A well lit home is less likely to be broken into when it is well lit. the longer it takes to plan and execute a break in, the less likely criminals are to target that home.
When designing a security system with landscape lighting:
Identify any potential safety and security risks by surveying the home's perimeter. The best security lighting applications take into account their surroundings.
Avoid creating glare and deep shadows, and allow clear observation of anyone in or around the home.
Examine the landscape and perimeter of your home at different times of the day to identify potential safety and security hazards. Look for dark areas or deep shadows around the home, garage, and yard that could serve as potential hiding spots to burglars.
Pinpoint desirable or high-value items on the property such as garden ornaments, statues and vehicles, and make sure these are secure or locked up.
Types of Security Lights
Flood Lights or Spotlights
Flood lights spread a wide cone of light and are ideal for lighting large spaces. The versatile fixtures come with one, two, or three adjustable heads for precise illumination of areas such as: Driveways, backyards, recreational areas, entryways, corners, decks, loading areas, patios, porches, pools.
Landscape Lighting for Paths
Landscape path lights are ideal for safely illuminating frequently used paths and walkways. The light fixtures are also suitable for illuminating trees and other architectural elements around your home: Deck, ground, trees, plants, flower beds, paths, stairs, trails, and walkways.
Surface Mounted Luminaries
Surface-mounted outdoor light fixtures are suitable for general, accent, and decorative lighting in your home exterior. These lights can also be mounted on wooden structures like arbors or pergolas and under caps or steps.
Post Luminaries
Outdoor post lighting also provides lighting for ambiance. These light fixtures are suitable for welcoming guests to your home. Finally, adjust the light fixtures so they point down to your property, not the street or your neighbors house.
---
Consider what areas of your landscape would impact your safety and security the most. You should work  with your contractor so they can come up with creative solutions and ideas. If you are looking for help designing a landscape lighting package for security, Landscapes Unlimited can help. We offer both design and install services, therefore we can help you make your dream landscape a reality.