Pergola Paradise: Boosting Both Garden Functionality and Aesthetics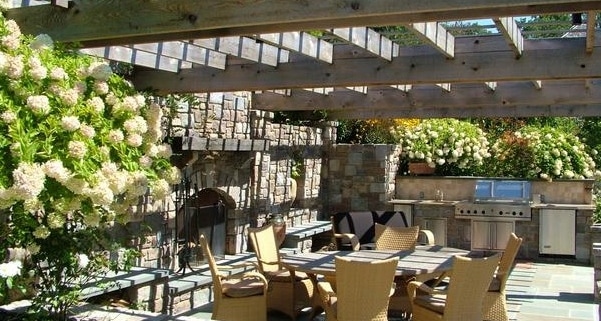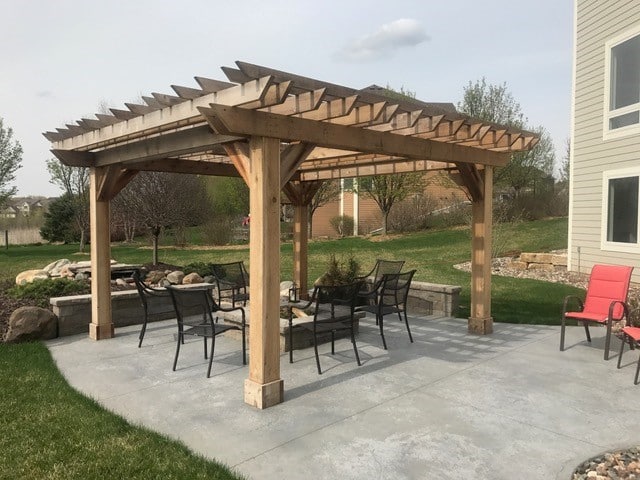 Whenever gardens are mentioned, the first things that come to mind are flowers in full bloom, gorgeous trees, and immaculately manicured lawns; a space bursting with greenery and life.
The best gardens, however, don't just contain things that are alive. The beauty of the living is more apparent when contrasted with the inert. Apart from shrubs & perennials with flowers in bloom, a truly lovely garden boasts elegant hardscapes — non-living garden features that are permanent and do not break down quickly.
One of the loveliest hardscapes you can add to your garden is the pergola — a tall structure consisting of a lattice supported by four vertical posts. The lattice is usually made up of wood planks & lathes, providing shade and serving as a trellis for climbing flowers and vines.
Pergolas can create definition in your landscape, making it more of a living space than simply a place to grow plants. The experts at Landscapes Unlimited love building them because they add a touch of elegance and dimension to a potentially homogenous green space.
Find out how a custom-built pergola installation makes your garden the talk of the town.
The Rise of the Pergola
It's not surprising that the word pergola came from a country known for its dazzling architecture and abundant greenery. It originated from the Italian surname Pergola, which comes from the Latin word pergula, which means a path with a roof trellis that supports climbing plants.
Although we've always had a concept of what a pergola is, it wasn't always a popular garden feature. Homeowners preferred gardens with just flowers, herbs, and fruit-bearing trees.
In the last few years, however, the popularity of pergolas in landscaping designs has increased. More homeowners want "outdoor rooms," with built-in kitchens, dining areas, and places for entertaining.
So, landscape experts offered a fashionable solution: the pergola. These archways define the living spaces in the garden and make the outdoors feel like an extension of the home. They're functional because they provide shade during the summer. They're beautiful too, because the more ridged structure creates contrast to the texture of the lawn and garden beds, and the natural materials soften the look of hardscaped patios.
Pergolas Make Your Outdoors a Living Space
What sets the pergola apart from other hardscapes like retaining walls and water features is that they enable you to do most indoor activities in the fresh outdoors.
Work – With the right outdoor furniture, you can read modules, pour through paperwork, or finish work reports under the shade in natural light.
Leisure – You can complete your paintings, practice playing an instrument, or do yoga in the middle of your quiet garden. You can meditate or play your rock tracks at full volume — the leisure activities you enjoy doing under your pergola are endless.
Entertainment – Imagine catching up with your friends under a pergola heavy with flowering vines. You can have a lovely summer breakfast with your family or spend a date night under the stars.
Another boon: you won't feel confined or stuffy. Because a pergola doesn't have walls, the space is open and airy. And you enjoy a magnificent view of your gardens.
Pergolas Make Your Garden Lovelier
Apart from functionality, homeowners adore pergolas because of their aesthetic appeal. These structures have a sculptural beauty that no gazebo or awning could match. They create an intense visual interest when strategically placed in the garden. They:
Elevate a Simple Garden. If all you have in your garden are ornamental flowering plants, then a pergola is a good choice for a first hardscape. Because of its simple structure, it won't distort the spatial balance of the area, nor would it overpower the surrounding vegetation.
Temper Huge Hardscapes. In landscapes that have extensive features, like decks, fences, and sheds, the pergola creates a sense of balance. Think of it as an in-between structure; they're not as small as the plants, but they're not as huge as decks. They temper the extreme contrasts and promote the natural flow of elements in the space.
Give Vines a Home. Your pergola supports beautiful climbing plants that diversify the lines of your garden. Imagine an archway covered with purple clematis or white jasmine. Lavender wisteria hangs from the lattice, while ivy plants crawl on the posts.
Create Ambiance. Throwing an outdoor get-together? A pergola serves as the anchor for accessories that build a welcoming atmosphere. You can hang lights for a romantic date or pots for a rustic party. Add curtains for privacy, hang hammocks for comfort, or install chandeliers for drama. You can also use it to influence the flow of traffic around the space as a gateway, an in-between fixture along the pathway, or the gem at the end of the walkway.
Build the Perfect Pergola
If you want a stunning and sturdy pergola that's guaranteed to blow you and your guests away while adding to the aesthetic functionality of the place, hire professionals. Though this project might cost more, the results are worth it. You'll get:
The Best Pergola for Your Space – An expert can recommend the design that suits your landscape. After all, the pergola must balance the other elements in the space. The size of the plants, the existing hardscapes, and the space allotted for the pergola are taken into careful consideration. Experts also recommend the best materials; for instance, cedar is the most popular material because of its natural anti-fungal properties.
Building Code Compliance – You can rest assured that your pergola is built according to national building codes. By complying with local regulations, you get the assurance that your building is structurally sound, even if it supports heavy vines. It can withstand the weather in your area and serve your family for many years. Plus, you won't be facing costly structural mistakes down the road.

Vetted Materials – Professionals have a network of trusted suppliers, or they themselves supply the materials needed to build the pergola. Either way, you're sure that your structure will be built from wood of excellent quality.

A Beautiful Finish – Nothing beats the work of a professional. Because the pergola was designed for your space and made from high-quality materials, the results are stunning. They fit your gardens well and complement all other features. No plank is askew, and no beam leans to one side. The lattice is perfectly leveled, and the pillars sport the perfect height.

Once your pergola is erected, you can enjoy the outdoors with the comfort of the indoors. Just add beautiful outdoor furniture, and your pergola is ready to be a workstation, art workshop, practice space, or receiving area. It can also be a quiet, private place where you can unwind by yourself.
In other words, your pergola can be your personal slice of paradise.
Call us today, and set up a consultation for you pergola project.